2 Michelin Star Chefs: Mark Birchall, Chef Patron, Moor Hall Restaurant with Rooms
Mark Birchall is the chef patron of two Michelin-starred, Moor Hall Restaurant with Rooms in Lancashire
2011 Roux scholar Mark Birchall has worked at some of the best restaurants in the UK including Northcote and L'Enclume. Within two years of joining owners Andy and Tracey Bell to oversee the food offering at Moor Hall, the restaurant had earned a flurry of awards including two Michelin stars and five AA Rosettes.
Moor Hall Restaurant with Rooms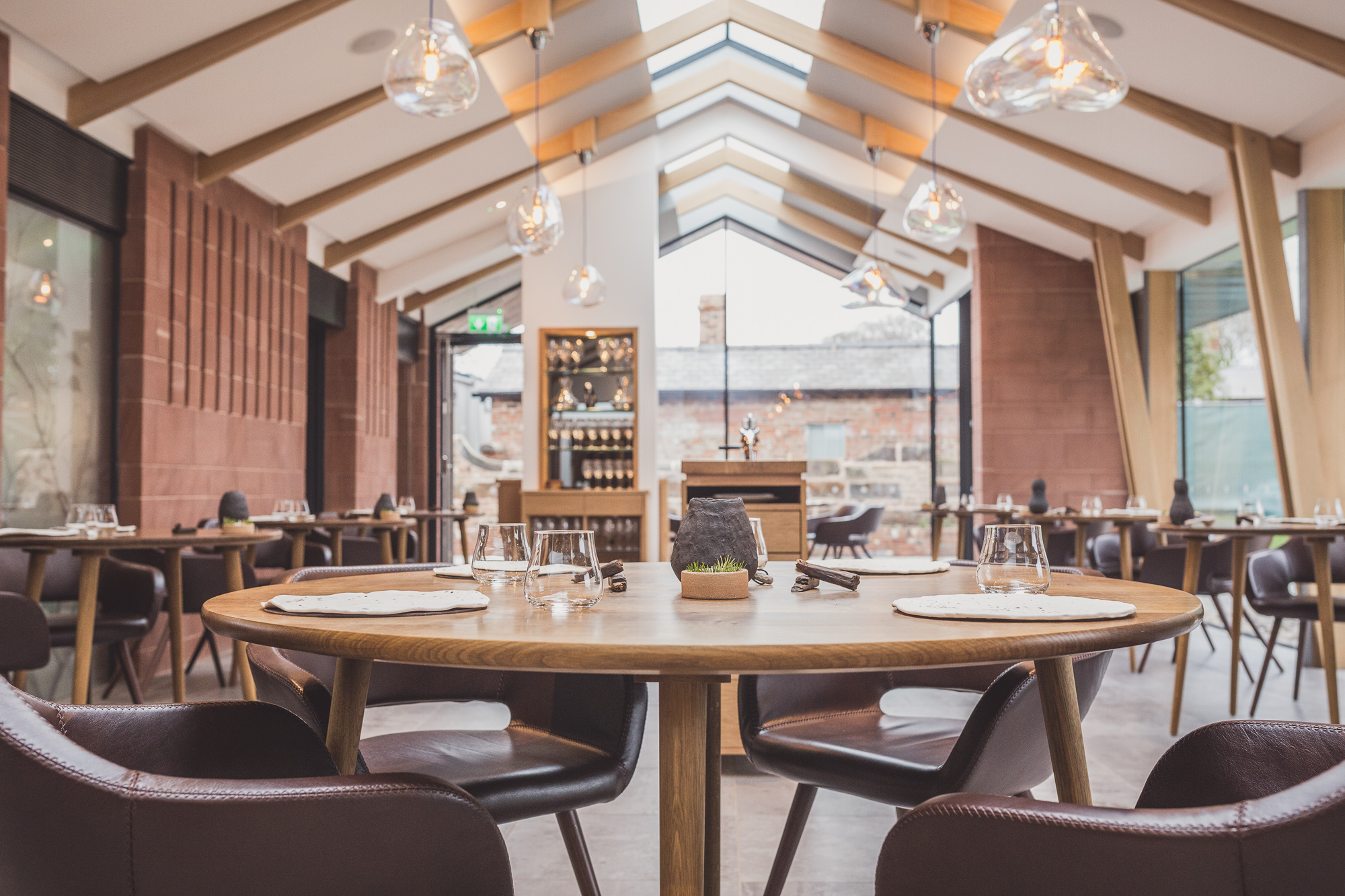 ​
Prescot Road, Aughton, Lancashire, L39 6RT
Website: www.moorhall.com
Tel: 01695 572511
Email: [email protected]

Opening hours: Lunch Wednesday-Sunday 12-2pm (last orders); Dinner Wednesday-Sunday 6:30pm-9:30pm (last orders)
Chef Patron: Mark Birchall
Co-owners: Andy and Tracey Bell
General Manager: Adam Wilkinson
Sommelier: Alexandre Freguin
Facebook: Moor Hall Restaurant with Rooms
Twitter: @restmoorhall
Instagram: @restaurantmoorhall
Biography
Mark was born in Chorley, Lancashire and trained at Runshaw College. He started his career at The Walnut Tree in Abergavenny, Wales with Franco Taruschio, before taking on roles at Northcote and Haighton Manor.
In 2006, Mark joined Simon Rogan at L'Enclume as a sous-chef. He was promoted to the position of head chef in 2008 and won the Roux Scholarship in 2011.
In 2014, he was named group executive chef of Northern Operations for the Umbel Restaurant Group - overseeing the group's offering across its Cartmel, Cumbria and Manchester sites.
Never one to curtail his ambition, Mark left the group in 2015 to open his own restaurant, which he did two years later.
Moor Hall Restaurant with Rooms
Moor Hall is a grade II* listed gentry house from the sixteenth century, located in Aughton, near Ormskirk in West Lancashire. Mark joined forces with business partners Andy and Tracy Bell to renovate the property into Moor Hall Restaurant with Rooms, which opened in March 2017.
The 50-cover restaurant has tables that seat up to six guests. Their private dining room, 'The Argonne Room' also seats up to 14.
The final conversion to the property, The Barn, is a casual dining space with a bar, which opened in October 2017.
Moor Hall also has a kitchen garden, a cheese room serving cheeses handmade by local farmers and a wine cellar in which to store their 350-bin wine list.
In 2017, just six months after opening, Moor Hall received its first Michelin star in the Michelin Guide UK 2018. In 2018, it received five AA rosettes and a second star in the Michelin Guide UK 2019.
What the guides say:
​

Harden's
​
Food Style
Mark's modern British cuisine showcases the best of local produce, wherever possible grown on site in their kitchen garden. Guests can choose between a four-course menu and an eight-course menu, with dishes such as Holstein Friesian, barbecued celeriac, mustard and shallot; Sladesdown duck with blackcurrant, sweetcorn, beetroot ragu and whey;
Apples & pears with woodruff, birch sap and apple marigold.
In an interview with The Staff Canteen just after opening the restaurant, Mark explained his thoughts on how he delivers value for money with his offering.
"Paying 95 quid to eat a meal is a lot of money," he said.
"Whether it's in the quality of the ingredients, the extra touches, making people feel special – plus there's nothing more important than feeling relaxed. All of these things add to the experience."
Accolades
On the same year it received a second Michelin star, Moor Hall was named Best Breakthrough at the GQ Food & Drink Awards and earned four Rosettes.
The following year, it and was then awarded a fifth Rosette, before being crowned best restaurant by the UK in the Estrella Damm National Restaurant Awards 2019.
It kept hold of the title in 2020 as the awards didn't run due to the pandemic, then secured the top spot for a second time in 2021.
Videos of Mark Birchall:
Other Michelin Star Chefs
In these challenging times…
The Staff Canteen team are taking a different approach to keeping our website independent and delivering content free from commercial influence. Our Editorial team have a critical role to play in informing and supporting our audience in a balanced way. We would never put up a paywall and restrict access – The Staff Canteen is open to all and we want to keep bringing you the content you want; more from younger chefs, more on mental health, more tips and industry knowledge, more recipes and more videos. We need your support right now, more than ever, to keep The Staff Canteen active. Without your financial contributions this would not be possible.
Over the last 12 years, The Staff Canteen has built what has become the go-to platform for chefs and hospitality professionals. As members and visitors, your daily support has made The Staff Canteen what it is today. Our features and videos from the world's biggest name chefs are something we are proud of. We have over 500,000 followers across Facebook, Twitter, Instagram, YouTube and other social channels, each connecting with chefs across the world. Our editorial and social media team are creating and delivering engaging content every day, to support you and the whole sector - we want to do more for you.
A single coffee is more than £2, a beer is £4.50 and a large glass of wine can be £6 or more.
Support The Staff Canteen from as little as £1 today. Thank you.
CONTRIBUTE
2 Michelin Star Chefs: Mark Birchall, Chef Patron, Moor Hall Restaurant with Rooms