3 Michelin Star Chefs: Clare Smyth, chef-patron, Core
Clare Smyth is the chef-patron of Restaurant Core by Clare Smyth in Notting Hill, London.
Clare Smyth is no stranger to Michelin-starred restaurants, having earned and retained three of them as chef-patron at Restaurant Gordon Ramsay.
Now, it is her own restaurant, Core by Clare Smyth, which bears a plaque with three stars on it.
Core by Clare Smyth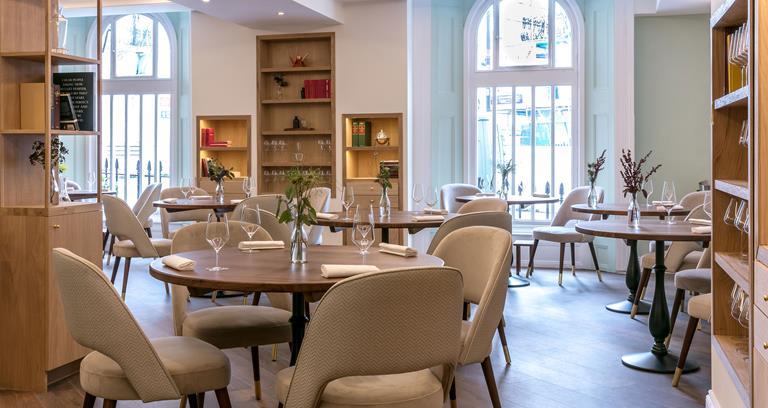 92 Kensington Park Rd, London W11 2PN
Telephone: 020 3937 5086
Website: www.corebyclaresmyth.com
Opening hours: Tuesday -Wednesday-6.30pm-10.30pm. Thursday - Saturday - 12pm-2.30pm and 6.30pm - 10.30pm.

Chef Patron: Clare Smyth
Head Chef: Jonny Bone
Twitter: @CorebyClare

Instagram:@corebyclaresmyth
Facebook: Core by Clare Smyth
Biography
Clare grew up on a farm in County Antrim in Northern Ireland. After working at a local restaurant in her school holidays, she moved to England aged 16 to pursue a career as a chef.
She subsequently trained and worked in some of the most renowned kitchens in the world. She did an apprenticeship at Grayshott Hall in Surrey, then secured a role at Michelin House in London.
Before joining Gordon Ramsay at his eponymous restaurant in 2002, she worked at the St Enodoc Hotel in Rock and staged at The French Laundry in California and Per Se in New York.
She was named head chef at the Royal Hospital Road restaurant in 2007, making her the first female chef in the United Kingdom to run a three Michelin star restaurant.
After leaving Restaurant Gordon Ramsay, Clare headed to work for Alain Ducasse at Le Louis XV restaurant in Monaco, before returning to the UK to open up her first solo restaurant.
What the guides say
Good Food Guide
10/10 score - meaning "perfect dishes showing faultless technique at every service. An extremely rare accolade"
Harden's
Core by Clare Smyth
Core by Clare Smyth is an informal fine dining restaurant with an emphasis on natural, sustainable food, sourced from the UK's most dedicated farmers and food producers.
Clare, Jonny and the Core team seek out the best of British produce, working with farmers to champion sustainable ingredients used throughout the menu.
Awards and other projects
Clare was named as the best female chef at the World's 50 Best Restaurant awards 2018.
She was made an MBE in 2013 for her services to the hospitality industry, won the Chef of the Year award in 2013 and achieved a perfect score in the 2015 edition of the Good Food Guide.

Clare has appeared on a variety of TV shows including Saturday Kitchen, Final Table and Masterchef: The Professionals and cooked for Prince Harry and Meghan Markle's wedding in 2018, adding to her worldwide notoriety.
In 2018, Core received five rosettes in the AA restaurant Guide 2019 and two stars in the Michelin Guide UK 2019.
Many predicted that it would soon receive a third star, and lo and behold, in the 2021 guide, it did.
Clare credited her team for the achievement, explaining that a good proportion of them have been by her side since day 1.
"It's that longevity that really raises your standard," she said.
"You can't do it alone. It's every little element, every bit, the consistency, discipline, the drive everyday of the whole team to achieve that level. You can't just achieve it once, you have to achieve it for every single plate, every single day."
Clare is particularly passionate about education, and her team are all involved in the Core Academy, a rigorous internal training programme which she believes instills them "with knowledge, tools and the confidence they need" to succeed in their roles and in their careers.
The chef believes it is the role of high-profile chefs such as herself to attract more young people into the industry.
With most of her interns having trained in France, Spain, Switzerland and beyond, she said:" I'd love to see some world-class hospitality schools in the UK."
Videos of Clare Smyth:
Other Michelin Star Chefs
In these challenging times…
The Staff Canteen team are taking a different approach to keeping our website independent and delivering content free from commercial influence. Our Editorial team have a critical role to play in informing and supporting our audience in a balanced way. We would never put up a paywall and restrict access – The Staff Canteen is open to all and we want to keep bringing you the content you want; more from younger chefs, more on mental health, more tips and industry knowledge, more recipes and more videos. We need your support right now, more than ever, to keep The Staff Canteen active. Without your financial contributions this would not be possible.
Over the last 12 years, The Staff Canteen has built what has become the go-to platform for chefs and hospitality professionals. As members and visitors, your daily support has made The Staff Canteen what it is today. Our features and videos from the world's biggest name chefs are something we are proud of. We have over 500,000 followers across Facebook, Twitter, Instagram, YouTube and other social channels, each connecting with chefs across the world. Our editorial and social media team are creating and delivering engaging content every day, to support you and the whole sector - we want to do more for you.
A single coffee is more than £2, a beer is £4.50 and a large glass of wine can be £6 or more.
Support The Staff Canteen from as little as £1 today. Thank you.
CONTRIBUTE
Editor
27th September 2021
3 Michelin Star Chefs: Clare Smyth, chef-patron, Core